Tired of washing machine vibrations and movements?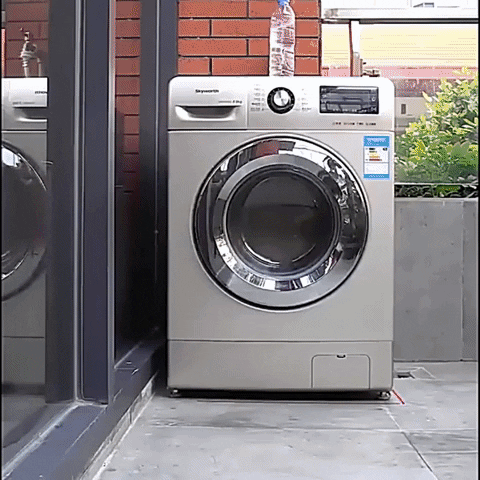 Any vibrations and lateral moments of the machine are minimized
Eliminate potential scratches on flooring
VibraStop™ pads elevate the machine off the floor and thus allow for easier cleaning
Can be repurposed to elevate other furniture or to compensate elevation differences
 FEATURES
Bottom disk made of anti-slip durable rubber to reduce any lateral movements
Modular design allowing different levels of ground clearance

High strength TPU levelling discs distributing the weight of the machine
Designed for years of service
 WHAT'S INCLUDED

4 anti vibration pads (4 OR 6 cm)
 CUSTOMER SUPPORT & MONEY-BACK GUARANTEE
Customer satisfaction is paramount to us!

 

All orders have a 30-day money back guarantee, no questions asked.
If you have any questions, please contact

 

Customer Support

 

and we will be happy to assist you.
These are awesome! I highly recommend them! They do raise your appliances up and make it easier to clean underneath. As far as noise cancelling, it does to a point but not 100%. It depends on whether your washer (specifically) has counter load balancing around the drum. Suggestion, have another person help you lift the machines so you can place these or you will be going back and forth trying to get them in place.
I put these pads under my washer and dryer and they did a wonderful job lessening the noise and vibration of both the washer and dryer. I used to be able to feel the vibrations from my washer's spin cycle across the house and now I only notice it if I am in the same room. I wish I would have bought these years ago. I have no idea of how long they'll last but they seem pretty sturdy.
I was a bit skeptical when I saw the product. But, it definitely reduced the floor vibrations. As the machines are quite heavy, please make sure to get the extra help when installing these, under the machine footings.
Does what it says it'll do. My house no longer feels like it's going through an earthquake when the washer spins. These little blocks really do absorb the shock. Highly recommend.
Bought these cause my washer gets off balance/shakes very badly during the wash cycle. This is completely fixed that issue!